Laser Therapy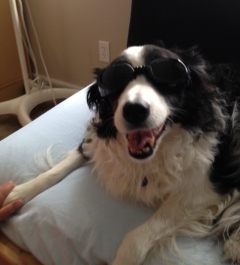 We are pleased at Seaside Veterinary Care to offer Therapeutic Laser treatment for pets. Laser therapy can be a remarkable stand-alone treatment or adjunctive therapy for many afflictions and is usually very well tolerated by our patients.
By definition laser therapy is "the application of electromagnetic radiation within the red and infrared spectrum over injuries and lesions to stimulate healing and pain relief within these tissues."
We use a Companion Class IV laser which is currently one of the most powerful therapeutic lasers available today. Simply put it sends light deep into tissues and energizes the cells to help them heal.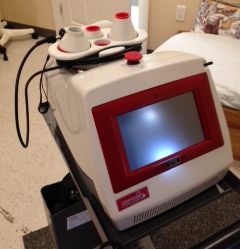 Laser therapy can be helpful for relieving pain and inflammation, reducing swelling and oedema, reducing scar tissue formation after injury, improving nerve function, accelerating wound healing, stimulating immune-regulation and stimulating Acupuncture points…. which can prove to be very helpful for those very sensitive little dogs and cats!
Treatment length and frequency is determined on an individual basis and is sometimes done in an Acupuncture appointment but is often done by itself. It is a wonderful way of treating acute and chronic conditions without causing stress. Most patients respond quite well to treatment as all they feel is a nice relaxing warmth!
If you are interested in exploring this type of therapy for your pets or would like more information please feel free to contact us by email or phone.